Saturday, May 07, 2016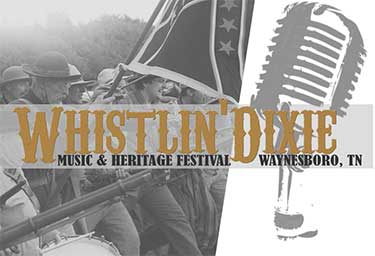 The Whistlin' Dixie Music & Heritage Festival is having its premier in 2016! The event promises to be an exciting day! Come and experience an interactive walk through history and some of the best live entertainment from our local and surrounding communities! Here is just some of what we have in store:
historical reenactments of Civil War battles featuring the 48th Infantry and the Confederate Volunteer Battalion.
a recreation of Waynesboro life circa 1863, including a walk through town with craftsmen and musicianspremier vendors offering a variety of foods and crafts
carnival games for kids and adults alike.
a variety of musical guests performing an assortment of genres of music - we have country, blues, rock-n-roll, and more being showcased on our awesome Stage 64!
If you are a vendor interested in reserving a spot at this event, you can contact Chuck Koblentz at (931) 213 4676.
If you are a musician or group interested in performing at this event, you can contact Matt Lineberry at (931) 332 6259.
For all other inquiries about this event, contact Regina Tesnow at (931) 722 6621.
Location
Waynesboro City Park